For decades, a focus on world evangelization and church planting has been a priority at Hinson Baptist Church. We understand that the glory of God in the gospel is far too grand to be limited merely to Portland. Rather, in supporting and praying and sending, we hope to be a part of the work that God is doing in redemptive history, taking His gospel to every tribe, tongue, and nation. We want to take the gospel to unreached people groups. There are various ways to learn more about what the Bible teaches about global missions and how you can get involved.
How do we support our global workers?
We partner in the gospel with our global workers in several ways—consistent prayer, communication, meeting practical needs, short-term trips, and finances—both when they are on the field and when they are visiting the states.
Talk to Terry - She is our Deacon of Global Worker Care—she would love to hear from you.

Go on a Short-Term Mission Trip
Hinson supported workers
The Custers are at the World Venture headquarters in Colorado, where Dougg serves as Vice President of Mobilization. They travel nationally and internationally, having a global impact on candidates, missionaries, partners, resources and churches for the Great Commission.
Although "officially" retired, Marilyn continues her Bible translation
work in Senegal, now as an International Resource Specialist with WorldVenture.
The Garritys served for many years under Greater Europe Mission in Germany. They are now based in Philadelphia, but will continue recruiting and leading volunteer teams, focusing on ministry to refugees on the Greek island of Lesvos
The Kellums serve under Cru in Seattle, Washington, reaching out to international students and scholars through Bridges.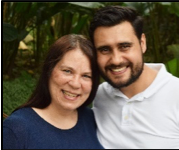 John & Laurie (Cardoza) López
Laurie has been a Hinson Global Worker in Colombia, serving with WorldVenture, since 2009. In December 2018 she and John were married at Hinson, and John was appointed to serve with WorldVenture. They are currently in the States while they increase support in order to return to Colombia, where they will continue sharing the gospel in a poor area of Medellín through a prevention ministry to kids and their families, as well as a new church plant. Pray for their new marriage; pray that they will be faithful in the place God has them now and content in His timing for their return to Colombia.
The McIntoshes host and direct camps, retreats and field trips at the Lake of The Trees Bible Camp (LOTT) in British Columbia. This is the only Bible camp in over a hundred-mile radius around them. Therefore, children come from many outlying areas, of which several have no church in their community. Their children are Jonathan (16), Twila (15), Vicki (13), Lochlan (11) and Carter (8).
Art & Beckie Melli work with Youth For Christ and, after living in Germany since 1989, are now based at
Hume Lake Christian Camp in California. They are serving on the Pastoral Care Team - Europe, supporting YFCInternational missionaries. They will also be participating in SonLife training ministries in the US.
The Nels believe strongly that God has called them to Mozambique to strengthen the local church by teaching biblical truth. They do this at the Volta a Biblia Training Center (meaning "return to the Bible") in the Gaza Province in Southern Mozambique, focusing on training and empowering local church leaders of all denominations. They form part of a teaching staff, including 9 Mozambicans and a New Zealander. Their responsibilities include Bible teaching, giving guidance to local personnel, English classes, finance and administrative work.
HINSON Global Workers
We also have global workers in closed countries—South Asia, Southeast Asia, and the Middle East. If you would like more information on how to support them, Talk to Terry.